Title: Fixing Your CD Player: Here's What Stores Have to Offer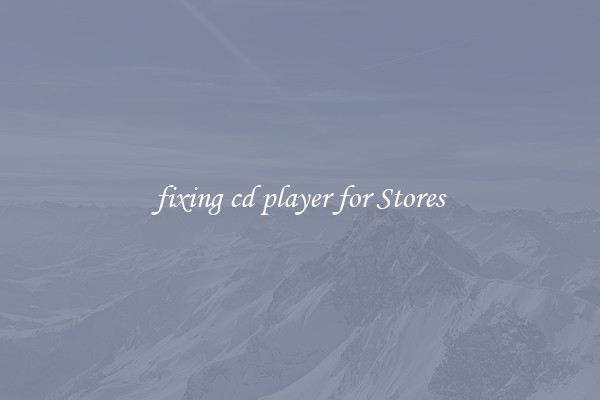 Introduction
CD players have long been a staple of any audio enthusiast's collection, providing crisp audio quality and playing our favorite tunes with ease. However, like any electronic device, CD players can encounter various issues over time. Whether it's a skipping CD, a malfunctioning tray, or an inability to read discs, these problems can be frustrating. Fortunately, there are several options available at stores to fix your CD player and bring it back to working condition.
1. Electronics Stores
Electronics stores such as Best Buy or Fry's Electronics offer repair services for various devices, including CD players. They have skilled technicians who are trained to diagnose and fix issues with different models and brands. Whether it's a simple repair or a more complicated problem requiring the replacement of internal parts, these professionals have the expertise to get the job done. It's best to call ahead and check if the store provides CD player repair service and inquire about the estimated cost.
2. Specialty Audio Stores
Specialty audio stores, commonly found in larger cities, can be an excellent option for fixing your CD player. These stores typically have a focus on providing high-quality audio products and may offer in-store repair services as well. They often have more extensive knowledge about the inner workings of CD players and can troubleshoot and repair a wide range of issues. Additionally, specialty audio stores frequently stock replacement parts, ensuring a quick fix for your CD player.
3. Online Repair Services
In today's digital age, online repair services have become increasingly popular. Websites like iFixit offer comprehensive guides and tutorials on troubleshooting and repairing various electronic devices, including CD players. These websites often have a vast community of tech enthusiasts who can assist you with step-by-step instructions and offer recommendations for spare parts or tools needed. However, consider your own technical skills and the complexity of the issue before attempting a DIY repair.
4. Manufacturer Support
For more significant problems or if your CD player is still covered by a warranty, contacting the manufacturer is advisable. Manufacturers often have their own support centers or authorized repair shops where skilled technicians can repair your CD player. Be prepared to provide proof of purchase, model information, and a description of the problem. Manufacturer support may be the most cost-effective option, especially if your device is still under warranty.
Conclusion
When your CD player starts experiencing issues, it's essential to explore the options available in stores. Whether it's through electronics stores, specialty audio stores, online repair services, or manufacturer support, help is readily available to fix your CD player. By taking advantage of these resources, you can reawaken your beloved device and continue enjoying your favorite music collection.