Comfortable Casual Pajama Pants in Various Designs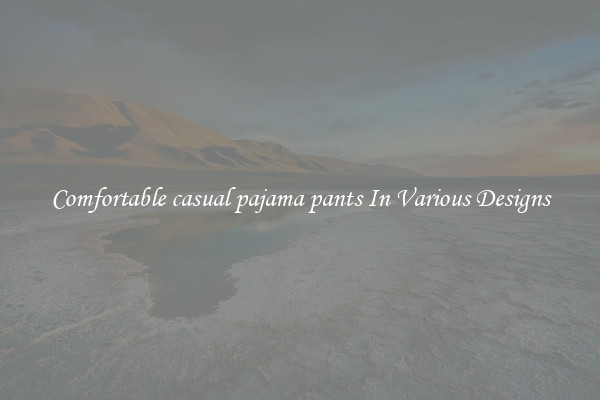 Pajama pants are no longer restricted to just sleepwear; they have become a fashion statement in themselves. With the increasing popularity of staying at home and the rise of loungewear trends, pajama pants have become a staple in everyone's wardrobe.
When comfort meets style, pajama pants are the perfect choice. Whether you are working from home, attending online classes, or simply relaxing on the weekend, these pants ensure you can do so in style and utmost comfort. Let's explore some of the various designs available in comfortable casual pajama pants.
Firstly, the classic flannel pajama pants are a timeless favorite. Made from soft and cozy cotton flannel, these pants are perfect for cold winter nights. The plaid patterns in vibrant colors add a touch of charm to your loungewear collection. Pair them with a plain solid-colored t-shirt or a matching flannel shirt for a comfortable and stylish look.
If you prefer a more lightweight option, jersey or cotton-blend pajama pants are an excellent choice. The smooth and breathable fabric ensures a comfortable fit, allowing your skin to breathe, making them perfect for warmer weather. These pants often come in a variety of patterns such as stripes, polka dots, or cute floral prints. Choose a design that matches your personal style and pair them with a basic tank top or a casual tunic for a relaxed yet trendy ensemble.
For those who prefer a more modern and trendy look, pajama pants with jogger-style cuffs have gained significant popularity. These pants offer a slimmer profile but still provide the same level of comfort as traditional pajama pants. The elastic waistband and drawstring ensure a perfect fit, making them suitable for both lounging and running errands. The jogger-style cuffs add a sporty and stylish touch, allowing you to effortlessly transition from loungewear to streetwear.
Another popular design is the wide-leg pajama pants. These pants offer a loose and flowing silhouette, providing ultimate comfort. The wide leg allows for ease of movement and provides a breezy and relaxed look. These pants often come in solid colors, making them versatile enough to be paired with both casual t-shirts and dressier blouses.
In recent years, pajama pants with fun and quirky prints have become a fashion statement. From cute animal prints to bold geometric patterns or even your favorite movie characters, there is a design to suit every taste. These pants are perfect for adding a touch of personality to your loungewear collection and are particularly popular amongst the younger generation.
Comfortable casual pajama pants in various designs are no longer limited to the confines of your home. With many people embracing a more relaxed and casual style, pajama pants have become a versatile and fashionable wardrobe essential suitable for a variety of occasions. Whether you prefer classic flannel, lightweight jersey, trendy jogger-style, wide-leg, or statement prints, there is a pajama pant design that will suit your style and make you feel comfortable and chic wherever you go.