Bird's nest is a prized delicacy that has been treasured for centuries in Asian cultures, dating back to ancient times. This exquisite ingredient comes from the nests of cave-dwelling swiftlets, found mainly in Southeast Asia. Known for its exceptional health benefits and unique texture, bird's nest has become a highly sought-after ingredient, particularly in bird nest food products.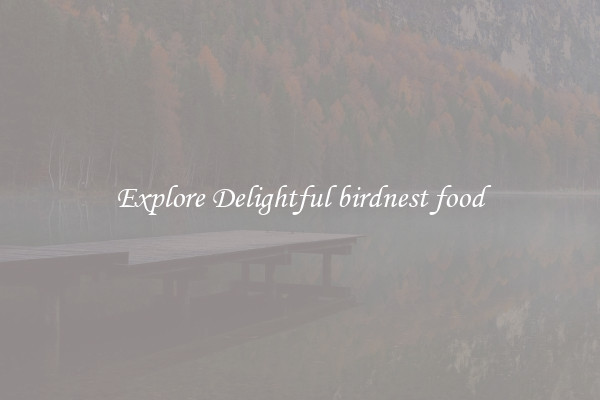 Bird's nest is rich in essential nutrients and is often considered a natural superfood. It is high in proteins, amino acids, minerals, and other essential nutrients. Consuming bird's nest is believed to enhance the immune system, improve respiratory health, promote youthful-looking skin, and boost overall vitality.
Delightful bird's nest food products offer a convenient and delicious way to enjoy the benefits of this precious ingredient. From traditional bird's nest soup to innovative desserts, these delicacies come in various forms to suit different tastes and preferences.
One of the most common and popular bird nest food products is bird's nest soup. This traditional dish is a nourishing and refreshing soup made by simmering bird's nest with chicken or pork broth and other ingredients like rock sugar and ginger. It is known for its delicate and smooth texture, with a subtle taste that appeals to many.
For those with a sweet tooth, bird's nest desserts are a perfect choice. Bird's nest is often incorporated into desserts like puddings, custards, or jellies, creating a delightful and luxurious treat. These desserts combine the unique texture of bird's nest with other ingredients like fresh fruits, coconut milk, or condensed milk, creating a harmonious blend of flavors and textures.
Bird's nest drinks are also gaining popularity, offering a refreshing and rejuvenating beverage option. These drinks can be enjoyed hot or cold, and often combine bird's nest with other ingredients like honey, ginseng, or herbal extracts. They offer a convenient way to enjoy the health benefits of bird's nest on the go.
In recent years, there has been an increasing trend in incorporating bird's nest into modern cuisine. Chefs and restaurants are experimenting with bird's nest by incorporating it into savory dishes like stir-fries, soups, or even sushi. These innovative creations showcase the versatility of bird's nest and its ability to complement a wide range of flavors.
Whether enjoyed in its traditional form or incorporated into modern dishes, bird's nest food products offer a unique and delightful culinary experience. With its exceptional health benefits and exquisite taste, bird's nest continues to enchant food lovers worldwide. So why not explore the world of bird's nest food and indulge in its delightful flavors and nourishing properties?